The Hungry Fire – Serpentstone Book 1
Her parents died as heroes. When their murderous enemy returns for revenge, she must learn to handle the truth before she can save her world.
Betharad is devoted to living up to her parents' legacy. Now elected leader of her town, she has ambitious plans for the future. But her life quickly spirals out of control when her parents' nemesis returns.
Disfigured, ruthless and probably insane, the sorcerer wants vengeance, and Betharad and her siblings are in his sights.
Lacking their parents' magical powers, Betharad can only watch as creatures from nightmares threaten the town. A desperate search into their parents' past battle for clues uncovers shocking secrets that leave them reeling when they need to be strong.
When her siblings are taken captive, Betharad has to trust a group of strangers who arrive offering help. But they have secrets and schemes of their own—no matter who wins, Betharad's family could pay the ultimate price.
The Hungry Fire is the gripping first book in the Serpentstone epic fantasy series, but can be enjoyed as a standalone story too. If you like underdog champions, earth-shattering magic, and high-stakes action, then you'll love this riveting tale.
Click here to read the first chapter.
Click here to find The Hungry Fire in your favourite online retail store.
The Poison Ember – Serpentstone Book 2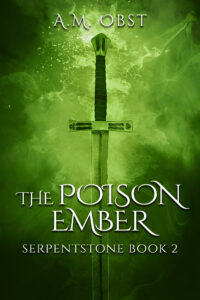 Faced with a task that could turn them into monsters, Sarnd and Jessa must decide whether to run away or save the world.
Six years ago, twins Sarnd and Jessa thought they'd rid their world of the malevolent Serpentstone. Since then they've worked hard to set their shocking past behind them.
But the Serpentstone has returned, and they're asked to carry it to an abandoned mine where it will be sealed deep underground. The Stone appears to be much weaker than it was, but they learned the hard way never to trust it.
The Stone starts to regain its terrifying power, and while Sarnd is desperate to complete their mission so he can go back to his new life, Jessa has other ideas.
As their mission becomes a race against time, can the twins learn to trust each other and avoid becoming the creatures they fear the most?
Click here to read the first chapter.
Click here to find The Poison Ember in your favourite online retail store.